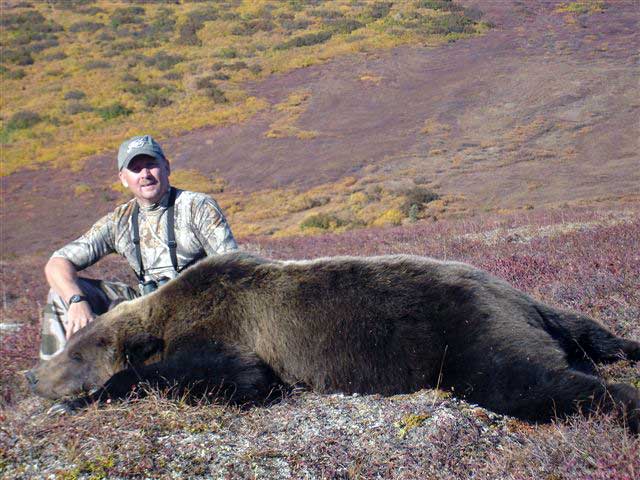 Our Grizzly Hunts take place in premier hunting areas, including our Exclusive Federal Preserve Concession. Hunts conducted in the Kotzebue area are for "Arctic" grizzly. These hunts are conducted north of the Arctic Circle in the fall season. The bears in this region have a wide color variation, with light blonde being the predominant color. Bear in this area typically range from 7' to a little over 9'2". These are spot and stalk, fair chase hunts. Days will be spent glassing mountainsides for bear feeding on blueberries, roaming the tundra, feeding on a recent moose or caribou carcass, or feeding on late-run salmon in rivers. With British Columbia Grizzly Bear Hunting being closed, our EXCLUSIVE Federal Preserve Concession is a GREAT way to get out and hunt one of our Grizzlies who stand side to side with any Grizzly in the world!
This is an excellent hunt to "combo" with Caribou! Fall hunts are spent primarily glassing mountain slopes for bear feeding on berries or working small streams as the bear feed on salmon. Tags for this hunt are available "over the counter."
Dates:
Transportation: Overnight in Anchorage with an AM connecting flight on Alaska Airlines to Kotzebue.
Camp: Mobile spike camps consisting of 6-man dome tents.
License: Brown Bear/Grizzly tag $1000, non-resident hunting license $160 and should be purchased online prior to arrival in Alaska.
Includes: 1X1 Professional Guide service, trophy care, in-field accommodations, all in-field transportation, airport pickup.
Not Included: Tag and license, accommodations in town before or after your hunt, or due to the inability to fly due to bad weather, transportation or shipping of trophy beyond Kotzebue, gratuities.
*NOTE: Prices, Licenses and tags subject to change without notification